< Why Popcap.com Sucks Now | Main | Nintendo DS in Action >
December 04, 2004
Everyone Else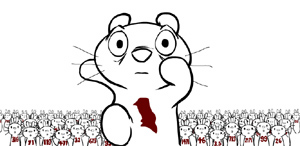 Seen over on a friend's LJ, a flash movie with a dancing and singing bunny.
Posted by snooze at December 4, 2004 10:27 PM
Comments
Post a comment
LJ Users: You can now sign on via openID. Please enter the URL to your LiveJournal in the following space. For example, http://www.livejournal.com/users/yourLJnamehere.
Thanks for signing in, . Now you can comment. (sign out)
(If you haven't left a comment here before, you may need to be approved by the site owner before your comment will appear. Until then, it won't appear on the entry. Thanks for waiting.)