So I've seen anime with giant robots, anime about baseball, anime about playing Go, and anime about tennis (to name a few). But I never thought I'd see one about baking bread. Yakitate!! Japan is about Kazuma and his quest to make a national bread for Japan. He figures that since many other countries have types of bread they are known for, Japan needs one too. He's also blessed with 'Solar Hands', which are abnormally warm and help make the bread rise faster after kneading.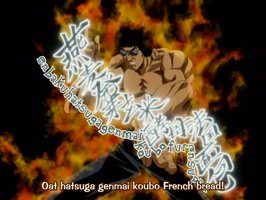 This show is just too much fun. They've compensated for bread not being the most exciting topic by making it insanely over the top. The main character's bread seems to be so good that it makes the people tasting it hallucinate. For instance, when tasting a bread he made with goats milk butter one character hallucinated flying through space to the constellation Capricorn. But mixed in with all the over the top antics are little bits of information about baking bread (I think most of it is fairly accurate).
Now here's a chance for anime to break a bit more into the mainstream. It could be on FoodTV. It was be a perfect match! And finally a show I can share with my mom (who used to teach a bread baking class).