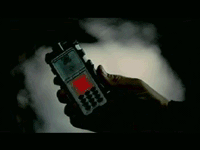 After reading about the pilot for a TV show called Global Frequency over on Heath Row's Media Diet my curiosity went into overdrive. I read up about it some on the net and then hunted down a copy of it. One of the best pilot episodes I've seen ever I think.
But what is just as interesting is how this leaked pilot has really generated interest in the show. People are asking "how can we help get this show to TV". The site FrequencySite has coverage of what's going on with it (though they don't suggest you go out and download the show, that would be bad :)). But imagine if a network were smart enough to use this as a way to promote a new show. Especially one that might be a bit of a risk (as this one may be). Then see how strong the feedback is, and they might get an idea of how successful it could be.
Anyways, if you get a chance to see this, definitely check it out. I now kind of hope that it does actually get picked up after all.
Now Playing: Love at First Sight from the album "Black Sea" by XTC