Wolf's Rain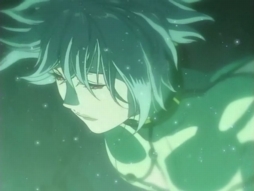 I just got done watching the first episode of Wolf's Rain. Damn. The last bit of this episode just gave me goosebumps, and I'm not quite sure why. I have the feeling this show will be really good.
As with so many shows there isn't much to go on at first. The animation is beautiful. I'd say on par with GitS:SAC. Bones is quickly becomming one of my favorite studios, I've loved everything they've done so far. Once again we have Yoko Kanno doing the soundtrack. The opening song is soso. Maybe it will grow on me, but it didn't do much for me first time round. The ending is nicer IMHO, a really pretty song.
Story, there isn't much so far, and I don't want to spoil things too much for people right away. The fansubs were just released tonight and I think I want to wait for an episode or two before I comment. This feels like a more serious show though, which is nice because it can take the place of Witch Hunter Robin. I'll end with a picture and the text of what AnimeNfo.com says about the show:

The wolf Tsume [claw], hiding his true form, lived as a human. Hanging out in the city and leading a band of young delinquents, he lived by stealing food from aristocrats. But another wolf, Kiba [fang], appears before him, causing his wild blood to boil. Kiba cannot forgive Tsume for allying himself with humans, and the two have a duel, putting their pride on the line. However, the battle was interrupted, and Kiba is shot by the tenacious wolf hunter, Quent. And he is taken captive by the police station run by the aristocrats...
(Oh, and here's another review of it too.)
Posted by snooze at January 9, 2003 05:42 AM