Yay Harem Shows!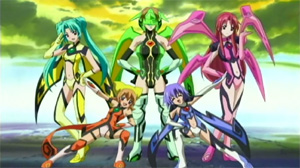 Okay, I'll admit it, I do tend to enjoy harem shows a bit, and Yumeria is the latest one I've been watching. Based on a a PS2 game (that never came out in the US), this show follows the adventures of Mikuri Tomokazu. From AnimeNfo.com:
One day 16 year old Mikuri Tomokazu has a strange dream. In the non-existing world he sees, a young girl is fighting against enemies. In the dream world, Tomikazu possesses a strange power and endows them to the girl, who then repels her enemies.

Tomokazu is astonished by the dream world, his strange power and then again the mysterious girl, who wages war. But on top of all that, when he wakes up, he finds the girl from the just seen dream next to him! All of a sudden the weird girl named Mone, Tomokazu's older Cousin Nanase and his uninvitedly coming classmate Mizuki begin the fight of the dream world right there!!
I've only seen the first four episodes of this show, but it is kinda fun, and supposedly gets more of a storyline as things go on. It is a bit heavy on the fanservice at times, but almost seems to make fun of that fact at the same time. Overall, this show falls into my "enjoyable, but little substance" category. If you need a break from the serious stuff (in my case it was Full Moon wo Sagashite, episode 42 killed me) check it out.
Posted by snooze at April 2, 2004 09:15 PM