DVD Reviews: GetBackers #1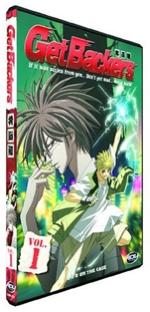 I was at Best Buy over the weekend picked this up. I hadn't realized it was due out this week, so was pretty happy. This was a show I enjoyed on fansubs and was looking forward to. Ban Midou and Ginji Amano, the GetBackers, retrieval agents who will get back anything that you've lost or had stolen. And their success rate is always 100%. The show is a lot of fun and while it starts out being fairly episodic, it slowly works up to having an overall story being told for the first season. This first release contains the first five episodes, which give us their first few missions, and introductions to some characters we'll be seeing throughout the show.
The show has both english and japanese language tracks, with english commentary from the VAs and production staff on the first and last episode on the DVD. I have the one for the last episode playing in the background right now. In general the dub doesn't sound bad, though at times the writing on them confuses me. Like, was it really necessary to translate 'Adieu' to 'Bon Voyage'? Overall the voices are good, Akabane's english VA (Shannon McCormick) being one in particular that I think worked quite well.
ADV did a nice job with this release. Sound and video quality are both great. I'd definitely recommend giving it a look, at least through the first two volumes to see if you like it. There's so much more I'd like to write about, but I'm afraid I'd be giving away spoilers for upcoming stuff.
Posted by snooze at August 18, 2004 06:43 PM