Vandread - Series Comments
One thing I am continually learning about anime is that I should never judge a show by its premise. It continually comes back to bite me. The first show that snuck up on me this way was Dual (which has since become a favorite of mine), and Vandread is the latest. From the back of the first DVD:
Women are Monsters! For generations, the men of the planet Tarak have waged a valiant war of survival against their fierce enemies of the planet Mejale - women!

Hibiki finds himself completely out of his depth first as a stowaway on a space battleship then as the prisoner of the women who hijack it! A strange missile send the hijackers into a remote corner of the galaxy where the women and their prisoners encounter a mysterious new enemy that may force them to join forces! Can men and women actually work together without killing each other?!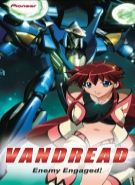 For some reason I just thought this would be one of those shows that just wouldn't work for me. Boy was I wrong. I first watched it dubbed on Encore Action, since that seemed like a decent way to check it out. After the first three episodes I was hooked, the show was just plain fun. I've since seen the whole series, as well as Vandred: Second Stage (which I'll comment on when I'm done rewatching it on DVD, subbed). One thing I will say is that the dub of this show was actually not bad. Watching them so soon after another has made it easy to compare and the english VAs really do a pretty good job.
The show ends up being a mix of comedy, action, harem, space opera, and a little bit of drama for flavor. The writers do an interesting job of throwing together this group of men and women and seeing how they interact with each other. Each having their own preconceptions about the other. Of course it doesn't help that all the propaganda on the planet of men says that women want to capture them, chop them up, and serve them for dinner.
The show is from GONZO, and being one of their earlier shows doesn't have quite the visual polish of their recent shows, but it's still quite shiny and cool looking. You can really see how they have been evolving over the years with this.
Overall, I give this show two thumbs up.
Posted by snooze at September 27, 2004 11:56 AM