< Random World of Warcraft Stuff | Main | Growing >
September 15, 2005
Whipping it. Whipping it good.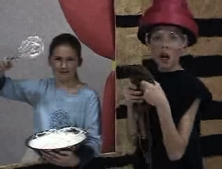 Wow, grade school kids redo the video for Devo's Whip It. And it's pretty cool! [via Boing Boing]
Posted by snooze at September 15, 2005 11:33 AM
Trackback Pings
TrackBack URL for this entry:
http://www.ezoons.com/cgi-bin/MT/mt-tb.cgi/4409
Comments
Post a comment
LJ Users: You can now sign on via openID. Please enter the URL to your LiveJournal in the following space. For example, http://www.livejournal.com/users/yourLJnamehere.
Thanks for signing in, . Now you can comment. (sign out)
(If you haven't left a comment here before, you may need to be approved by the site owner before your comment will appear. Until then, it won't appear on the entry. Thanks for waiting.)