< Grapetastic Tomatoes | Main | Anime in the News >
January 13, 2006
Video of the Day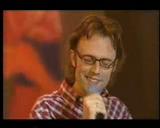 A great love song for all the geeks out there.
Posted by snooze at January 13, 2006 08:15 PM
Trackback Pings
TrackBack URL for this entry:
http://www.ezoons.com/cgi-bin/MT/mt-tb.cgi/4506
Listed below are links to weblogs that reference Video of the Day:
� Deciding between loves from jaschu's record
Tripod sing a song of love and priorities. It's probably happened before, and fortunately not a situation I've put myself in. [link courtesy o' ezoons] ... [Read More]
Tracked on January 14, 2006 03:14 AM
Comments
Post a comment
LJ Users: You can now sign on via openID. Please enter the URL to your LiveJournal in the following space. For example, http://www.livejournal.com/users/yourLJnamehere.
Thanks for signing in, . Now you can comment. (sign out)
(If you haven't left a comment here before, you may need to be approved by the site owner before your comment will appear. Until then, it won't appear on the entry. Thanks for waiting.)